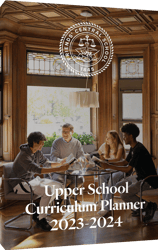 Upper School Curriculum Planner
Learn about our exceptional Upper School college-preparatory program with this free planner.
What's Inside?
Introduction
Core Teams at FCS
Natural Lands Program
Global Online Academy
Graduation Requirements
Curriculum Overview
Non-Departmental Electives
Wellness & Additional Graduation Requirements
Athletics & Wellness
By submitting this form you'll receive our Upper School Curriculum Planner which contains an in-depth overview of our program offerings, including:
All available courses and electives by department
Distinguished experts and research opportunities
Access to Global Online Academy
Graduation requirements

Exceptional

variety of seminar course offerings; advanced math and science classes
You'll also receive a follow-up email with information about opportunities to see Friends' Central School in person by attending one of our upcoming admission events or scheduling a visit.
We Go Further
We Grow
Stronger

We grow stronger through collaboration.
We Dig
Deeper

We dig deeper for new knowledge.
We Aim
Higher

We aim higher in the pursuit of intellectual promise.
See what everyday life is like on our bustling campuses.
"Words can't adequately express my gratitude for the Friends' Central community! Our family highly values education and the tuition is worth every penny for the school experience our children receive."
"I love the balance teachers in all divisions hold between being nurturing and doing real academic preparation. FCS is an intellectual and loving community."
"I absolutely love Friends Central. My daughter is receiving an incredible education and has met amazing people. The teachers are incredible!"
"Great community of educators and students. Learning in a loving community is an advantage that every student should have. At Friends' Central every student does have it."