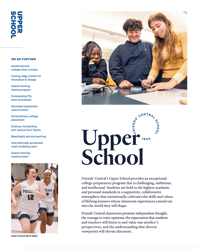 Friends' Central Upper School
An intellectual community of thinkers, scholars, and risk-takers
What's Inside?
Mission, Vision and Philosophy
Diversity, Equity, and Inclusion
Program Highlights
Curriculum Overview
Overview by Grade
FCS Upper School at a Glance
Learn more about what your child can expect from a Friends' Central education.
By downloading our Upper School brochure, you will get a sense of the innovative, engaging program, and vibrant community
of learners in the Upper School at Friends' Central.
A letter from Upper School Principal Beth Johnson
Insights into our School's Mission and Vision
Information about our passionate, expert Upper School faculty
Details about our curriculum
Information about college counseling and admission available to students
You will also receive a follow-up email with details about opportunities to see Friends' Central in person, whether by attending
one of our upcoming admission events or by scheduling a visit
We Go Further
We Grow
Stronger

We grow stronger through collaboration.
We Dig
Deeper

We dig deeper for new knowledge.
We Aim
Higher

We aim higher in the pursuit of intellectual promise.
What our community members are saying:
"I love the balance teachers in all divisions hold between being nurturing and doing real academic preparation. FCS is an intellectual and loving community."
"Words can't adequately express my gratitude for the Friends' Central community! Our family highly values education and the tuition is worth every penny for the school experience our children receive."
"Great community of educators and students. Learning in a loving community is an advantage that every student should have. At Friends' Central every student does have it."
"I absolutely love Friends Central. My daughter is receiving an incredible education and has met amazing people. The teachers are incredible!"