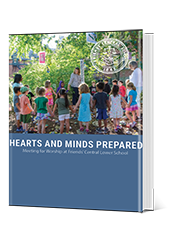 Hearts and Minds Prepared
Learn more about our Meeting for Worship program by downloading this free guide.
What's Inside?
The principles (S.P.I.C.E.S.) that guide the process
Example themes and topics of the month
The skills important to a successful Meeting for Worship: Centering, Reflecting, and Listening
How faith and play come together in Devotions
Student poems and reflections about the program
Hearts and Minds Prepared
Meeting for Worship at Friends' Central School.
When you submit this form you will receive a free guide titled "Hearts and Minds Prepared," which contains everything you need to know about the Meeting for Worship program at Friends' Central Lower School.
You will also receive a follow up email with details about opportunities to see Friends' Central in person by attending one of our upcoming admission events, or scheduling a visit.
And if you have selected a contact method preference, a member of the Admission Team may reach out to you to see if he or she can answer specific questions about our community or the admission process.
We Go Further
We Grow
Stronger

We grow stronger through collaboration.
We Dig
Deeper

We dig deeper for new knowledge.
We Aim
Higher

We aim higher in the pursuit of intellectual promise.
What One of Our Parents Has To Say:
"We could not have asked for a better first educational experience for our son than Friends' Central's Nursery and Pre-K classes. The teachers are kind and engaged, the environment is warm and supportive, and the children are truly known. We feel very lucky to be a part of this unique community."
Academic Excellence
Over 80% of seniors are admitted to one of their top choice schools.