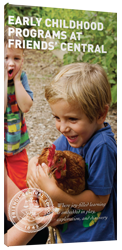 When you submit this form, you'll receive a free brochure titled "Early Childhood Programs at Friends' Central." In it, you'll find information about our Nursery, Pre-K, and Kindergarten programs, including:
The role of guided play in our early childhood programs
Details about our curriculum, including the "Specials" offered to our youngest learners: Spanish, Art, Music, Physical Education, and Science
Examples of what a typical day looks like in Nursery, Pre-K, and Kindergarten
How our early childhood programs fit into our broader mission to cultivate the intellectual, spiritual, and ethical promise of our students
You will also receive a follow-up email containing details about opportunities to see Friends' Central in person, from attending one of our upcoming admission events to scheduling your visit.
About Friends' Central Lower School
Friends' Central's Lower School campus is located on 18 idyllic, rolling acres on Old Gulph Road in the heart of Wynnewood. Complete with an extensive organic farm, chickens, playgrounds, fields, trees, ponds, and a bird blind, nature is as much a part of our classroom as the facilities themselves.
For over 170 years, Friends' Central educators have celebrated the connection between mind, body, spirit, and the natural world. The time and freedom our Nursery through grade 5 students are given to connect to one another and to the world around them are profoundly important to their well-being. Whether inventing their own games, working in the garden, catching tadpoles, or listening to bird calls in the woods, Friends' Central Lower School students are soaking in the joys and benefits of time in nature.
As they are playing and learning indoors and out, our students are also developing the cognitive, physical, and psychological skills they will need to succeed in our challenging academic environment.

Since September 2016, Friends' Central has been implementing a Lower School initiative called Lettuce Feed You, an innovative food program designed to inspire children to work toward a healthier, more sustainable world by teaching them how to source, produce, and prefer delicious, planet-friendly foods. The program features: